Trainers & Staff
Professional trainers. Attentive friendly staff.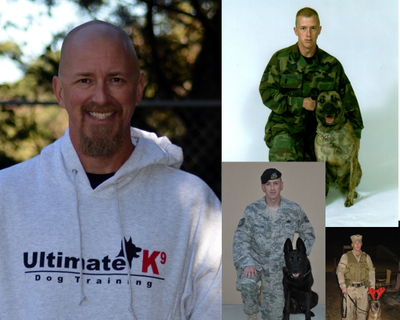 Owner & Head Trainer - Lance Nogosek
Lance Nogosek, head trainer and owner of Ultimate K9® Dog Training, began his career training dogs in the United States Air Force at F.E. Warren Air Force Base Wyoming; Lance ended his military career in 2010 at Andrews Air Force Base in Maryland where he was a handler/trainer for the elite Presidential K-9 Unit. Lance has also worked in conjunction with many other agencies, both local and federal, such as the United States Secret Service, Cheyenne Police Department, Prince Georges Police Department, Department of Justice, Department of State and Explosive Countermeasures International to increase his insight into the dog training world. Lance has over ​19 years of experience training all types of dogs with all types of problems. Weather it is Lance, or one of his staff, you can be assured you're going to receive the attention you need to reach your dog training goals.
Canine Training and Certifications to Date:
Lance Nogosek has been Certified with both Explosive & Narcotics dogs twelve times.
Lance Nogosek has trained & validated 50+ Military Working dog teams in Explosives, Narcotics, Protection, & Patrol.
Lance Nogosek Has Certified 15 patrol teams & trained 30 others to Patrol/Protection certification.
19 June 2003 Department of Defense Military Working Dog Handler Course.
2007 No Limitations School for Remote Collar Training.
11 July 2007 Department of Defense Military Working Dog Trainer/Kennel Master Course.
Lance Nogosek & Sioux BlackJack Nogosek have titled with Canine Good Citizen, Schutzhund/IPO BH, IPO 1, & IPO 2.
Lance Nogosek & 7-year-old Lando "The Machine" Nogosek currently have their AKC, CGC, IPO Bh, IPO 1, IPO 2, and IPO 3."
Lando scores high obedience, high tracking, high protection, and high in trial in his IPO 2 and his IPO 3.
Lance Nogosek has received four Air force Commendation Medals, two Air force Achievement Medals, and One Joint Force Achievement Medal.
Lance Nogosek is also a member of the International Association of Canine Professionals (IACP).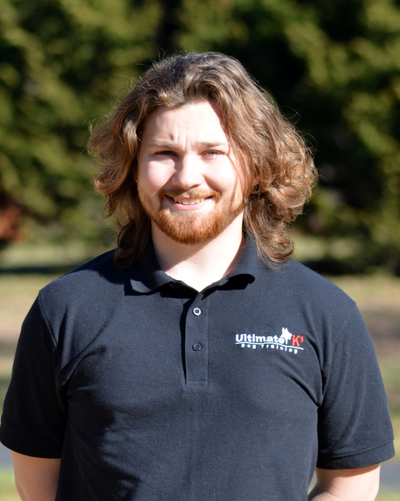 Colby Nuthall
Colby Nuthall has loved animals since he was young. He studied them in school and always tried to find a job where he was able to work with animals. From pet stores to pursuing a career in animal behaviors at the National Aquarium, animals have been a must-have in his workplace, not just his personal life. After adopting a timid and troublesome puppy he looked to UK9 for help. The transformation he saw in his dog after he completed the program was so incredible he joined the team to help other people experience the same. Colby will work tirelessly with you and your dogs to reach your goals and allow for a more rewarding life with your pup!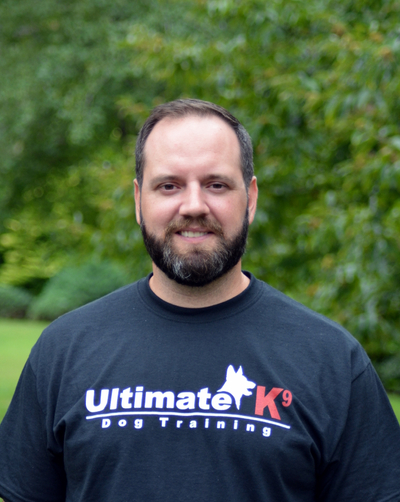 Corey Rourke
TRAINER
Corey Rourke comes with experience working alongside K-9, working dogs, and specialty dogs. As Corey continues to grow as a K-9 professional, in 2017 he completed an additional 16 weeks of training away from home working with K-9 professionals in Virginia to gain more knowledge and strengthen his dog training knowledge base. Corey has been working with dogs since 2007 trying to find the place he wanted to make the biggest impact, and Ultimate K9® is where he wants to be.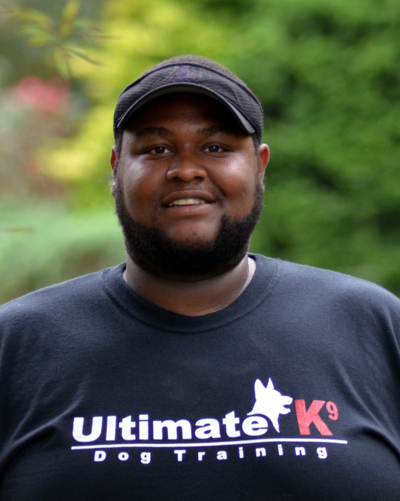 Vaughn Crockett
TRAINER
Vaughn Crockett is a great addition to our team of trainers and has been working with dogs through the Humane Society of Charles County helping to exercise and take care of pets in need for over two years. Vaughn has also worked for Ridge Kennels for over three years as kennel staff and as a customer relations specialist. Vaughn is an excellent dog trainer that is working towards competition in IGP/Schutzhund in the future. Vaughn is an invaluable part of the team helping with problem dogs, Stay & Train follow through, management, & care. Vaughn has a very intense passion for training dogs and has been training seven days a week for the last four years and has been working with trainers and training professionals from around the country as he perfects his craft. Vaughn's dedication and devotion to continue his education will lead him to be one of the best trainers in the country very soon.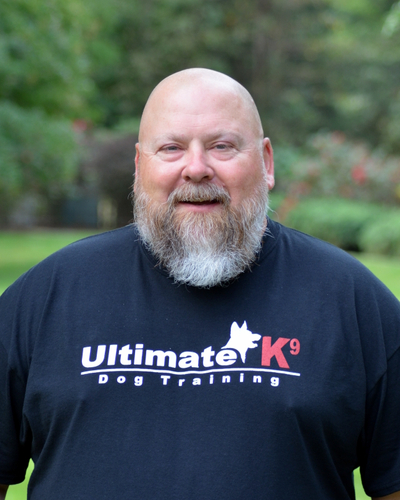 Robert Smith
TRAINER
Robert Smith has been around working dogs his entire life. His passion for training dogs ignited while watching his father, a Rehoboth Beach Police Officer, doing daily obedience training with their family dog Magnum, a male Doberman Pincher. Rob's training became more serious in 2007 after adopting a female German Shepherd from the DC Humane Society.
Realizing his young family needed some guidance, he volunteered and trained at a local K9 Academy. This training focused on leash/collar methods, understanding dog behaviors and learning how to help dog owners become handlers. All of this culminated into Rob leading and assisting in group and private lessons in Basic Obedience, Advanced/Off-Leash Obedience, Agility, Personal Protection and Tracking classes. Retiring after 21 years of military service in the US Navy and US Air Force, Rob and his new German Shepherd, Micah are starting their next chapter with Ultimate K9®. Rob is also a AKC Canine Good Citizen Evaluator. He is able to test all levels of the Canine Good Citizen Test, Trick Dog, and much more! Along with that Rob is a certified K9-Caring Angels Service and Therapy Dog Trainer.
Using modern K9 training methods Rob & Micah are eager to help solve any issues you may have and achieve your dog training goals.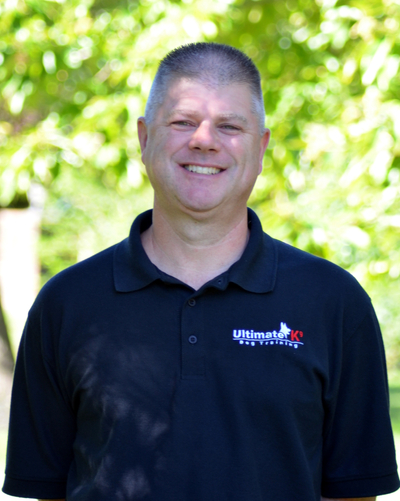 Ritchie Heishman
TRAINER
Ritchie Heishman started out with Ultimate K9® as a customer turned trainer. For the last eight years he has continued learning and training using the Ultimate K9® program. Ritchie has always had a love for dogs which greatly increased with his first job working at a kennel that raised German Shepherds and Huskies. Since then he has trained many dogs of his own. He also adopted two dogs through rescues. Ritchie believes a well trained dog is socially more enjoyable to be around and less likely to hurt themselves or others. He is eager to solve any issues you may be having along with providing dog obedience training.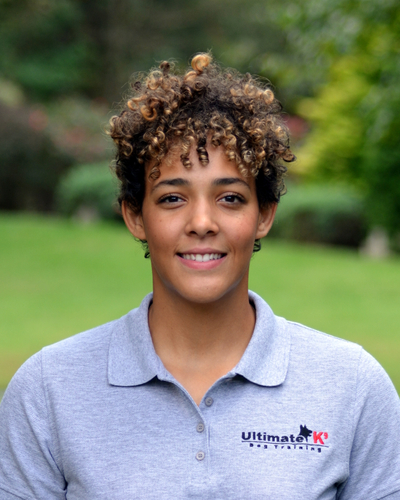 Victoria Moxley
TRAINER
Monichia or as most know her 'Victoria' has had an infatuation with the psychology and behavioral habits of dogs since around 10 years old. After doing extensive research on dog training companies, she found Ultimate K9® as her home. In her spare time she enjoys hikes and trying new outdoor activities.
As a longtime DMV resident, she can help you meet the varied needs for our community.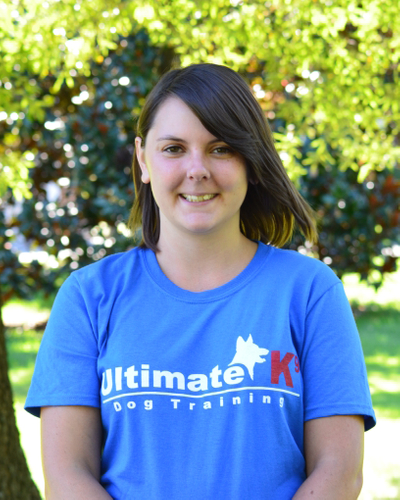 Hayliegh Watson
TRAINER
Hayliegh grew up living with animals and knew working with them would become her passion. For several years Hayliegh apprenticed to professionally groom dogs of all breeds, obtaining skills that transferred into training dogs. On days Hayliegh wasn't in the grooming salon she was volunteering her time to assist with training with service and therapy dogs! In those moments she knew training dogs would bring all that she loved into one place. Working with Ultimate K9® Dog Training has aspired Hayliegh to share the joys of owning a well behaved dog with her clients. Hayliegh is also a AKC Canine Good Citizen Evaluator, she is able to test all levels of the Canine Good Citizen Test, Trick Dog, and much more! Along with that Hayliegh is a certified K9-Caring Angels Service and Therapy Dog Trainer. When Hayliegh isn't active with clients she is enjoing time with her personal dogs Ichiro and Navi. Participating in various dog sports such as Lure Coursing and Dock Diving. Hayliegh encourages all her clients to enjoy their dogs and have fun with training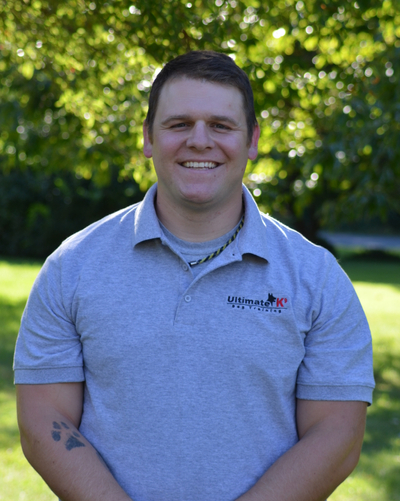 Matt Gomez
TRAINER
Matt also a former client of Ultimate K9® is a hard working and highly motivated trainer who first started as a client. Matt has spent his life around dogs and has dedicated much of his time studying dog behavior. Matt and his dog Riley are aspiring to compete in AKC hunt tests in the Maryland Sporting Dog Association and the National Bird Dog Circuit. Matt continues to expand his knowledge in training and will work diligently to provide you with training solutions to meet the needs of you and your dog.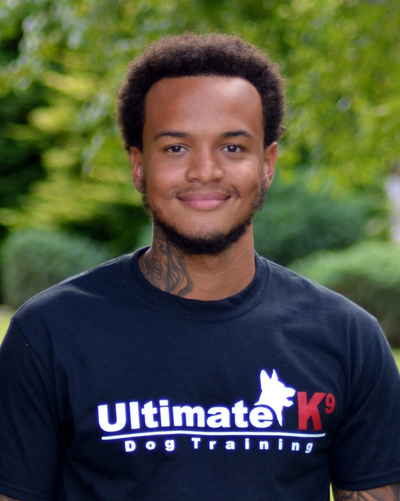 Sean Mason
TRAINER
Sean Mason has been around dogs all his life. His first experience with dogs was at a very young age helping his father train Rottweilers. Sean has also worked at Ridge Kennels where he was responsible for the caring of pets as kennel staff. Sean first came to Ultimate K9® for a mentorship with our owner, in hopes of going to the military. After his mentorship Sean realized he wanted to take a different route and join Ultimate K9® to better his dog training skills and help people with their dog training needs. Sean is also training to have a future and compete in the dog sport IGP. Sean's determination and passion for dogs will give him, and clients, a bright future!